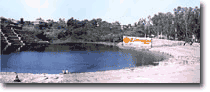 Surajkund has a kund (pool) with hills around it. The pool originally had a sun temple by its side. The temple is now in ruins but the kund still stands. All of this was built in the 10th century A.D. by the Tomar rular Suraj Pal. Surajkund is a picnic spot. Surajkund is as comfortable a weekend getaway, with opportunities to relax in any one of a whole range of hotels, designed to suit a whole range of pockets.
Surajkund became the chosen venue of the annual Crafts fair, a mega event that churns up wave after wave of visitors from the almost every state of the country. The fair is shaped around a different theme every year.
The fair is held in the first half of February when the air at Surajkund is at its balmiest. As they say, the Surajkund Crafts Fair is a celebration of India's finest handlooms and handicrafts, ranging from wickerwork baskets and mats to silk saris, shawls, carpets and much, much more besides. Nothing on display is machine made. It is handwork all the way. While giving a new lease of life to crafts that have been languishing, fair revives the glorious Indian tradition of respecting craftsmen and extending to them the patronage they so richly deserved.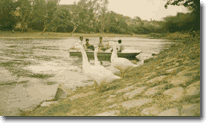 Badkhal Lake is a popular weekend destination to have fun. It is a spot to holiday. After the monsoons, the bird population at the lake increases dramatically. The chirping birds noise is the only sound, which can hear here. Badkhal Lake is surrounded by hills. Formed in a scooped natural depression in the Aravalli hills, the lake is fed by rainwater and a small rivulet. One can go along the lake and in the gardens surrounding it.
There are many different motels and cottages to suit all budgets. The air-conditioned cottages are built on a slight rise and the rooms offer some excellent views of the lake. The motels have cheaper rooms and are quite pleasant. There are two restaurants, the Grey Falcon and Mayur, which have a wide variety of dishes on their menus.
Centrally air-conditioned restaurants.. Mayur and Grey Falcon, Garud and Grey Falcon motel with piped-in Channel music, conference hall, bath complex with swimming pool, bar, sauna, steam bath, massage, boating, angling, kiosks with eatables, children's park, camel riding, ground, filling station and bank extension counter. Adventure sport facilities of canoeing, kayaking, rock climbing and trekking are available.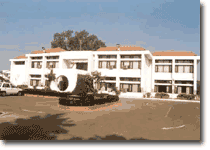 The Gymkhana, located at sector 15, as it is popularly called, is situated in idyllic surroundings. A full-sized swimming pool, a well-equipped gymnasium, tennis courts, badminton courts and a billiard room are some of the facilities available at this club.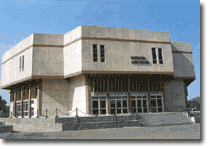 Municipal Auditorium, located at Dusshera Ground, NIT, has a large-sized hall and adequate parking space makes the Auditorium a fit place for holding multifarious cultural events and business meetings.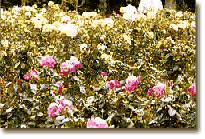 Two Rose gardens are there in city. One is in Sector 17 and another one is besides the Nahar Singh Stadium, which have a lot of roses of different types.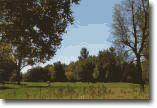 Golf, a game that began as far back as 1413 A.D. at St. Andrews, Scotland with a bent stick and a leather ball stuffed with feathers, had emerged as a major leisure game. Golf has gained a definite identity today more so because it combines open-air exercise on splendid green terrain, attracting men, women and even children to greener pastures and to quiet leisure. To the health conscious urban man, Golf is holding an immediate fascination. Aravalli Golf Course is spread in 67 acres, having 9 hole, Clubhouse with Bar & restaurant, Hut in 'close' formation, conference hall and green lawns.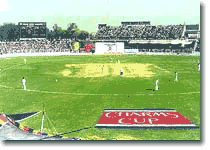 Nahar Singh cricket stadium in Faridabad was built in 1981. This ground hosted international level matches. The venue has also hosted the match between Ranji Winners Delhi and England. This apart, around 50 matches including Ranji Trophy, Duleep Trophy, Deodhar Trophy, and Wills Trophy have been played here.
The ground has a capacity of to hold around 25,000 people. There are six center pitches and three practice pitches. There is also a modern pavilion with a suite which can has 200 seats. It also has a commentator box, box for media, press box, President box, Umpire room, health club, restaurant, billiards room, card room, and coffee shop. There is a outdoor tennis court. On the north side 9 stands have been constructed with an office and parking facility. Nahar Singh stadium stands out as one of the most modern in North India having all facilities.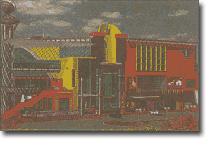 A world-class shopping mall with three silver screen Cineplex named as "SRS World" located at sector 12. The complex will be fully air-conditioned and will have several world-class features like Glass Tunnel, Sophisticated lifts & Escalators, Auto-walk system linked to lift etc. Lower ground floor, ground & first floor will have showrooms, food courts & restaurants to cater esteemed customers with best of cuisine and quick bites. Second floor will have a multiplex theatre having all the theatre amenities for the audience. Top floor will be dedicated to Swimming Pool, Gymnasium, Club, Bar and Terrace Garden.
More Details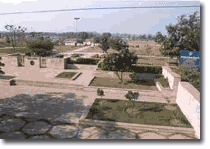 The Town Park located at sector 12, is a hub of activity at any time of the day. Away from the humdrum of the city, the lush green lawns and a variety of natural trees and plants beckon the young and old alike.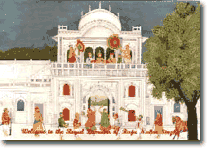 The historic fort of the King Nahar Singh is located at Ballabhgarh. Now in ruins, it was around 1739 AD, that the work on the construction of the Fort of Ballabhgarh began at the behest of the forefathers of King Nahar Singh. Once guarded by two gates, the four corners of the palace were decorated with minarets on which large cannons were mounted.
The fort had a Darbar-E-Aam and a Rang Mahal, which were decorated with a beautiful Chhatri visible even today. The fort stands as an outstanding specimen of architectural design. In pattern, the Mahal is in keeping with the finesse of the Mahals of Bharatpur.
King Nahar Singh ascended the throne in 1829 AD and proved to be a just ruler. In the year 1857 AD, when the fires of the First War of Independence were flaring up in the country, he joined the battle. Backed by a small army of soldiers, he fought valiantly, following the 'guerrilla' tactics popular in those days. But the small efforts of the King could not withstand the mighty forces of the British. He eventually died, while doing his bit to free his motherland and thus, came the end of the rulers of Ballabhgarh.

Dabchick, at Hodal, is a lovely wooded retreat having a small lake and freely roaming peacocks and ducks. This green and winsome tourist resort covers 25 acres. It was designed and opened to the tourists moving along the national highway number 2. The beauty of the resort lies not only in its landscaping, but also in the innovative design of camper huts that have been built on stilt, the use of cut wood work and slate as a medium of decorating the interiors. What began as a resort for a brief stopover is now providing a well-decorated motel wing, luxury cottages on stilts, restaurant, and conference hall and bar facilities along with a Fast Food Centre, filling station, gift shops and animals for joy rides.